GLOBAL
63,087,137
Total confirmed cases
Updated on November 30, 2020 7:36 am
GLOBAL
1,465,368
Total deaths
Updated on November 30, 2020 7:36 am
GLOBAL
18,550,779
Total active cases
Updated on November 30, 2020 7:36 am
Bacterial vaginosis (BV) is a condition caused by changes in the amount of certain types of bacteria in your vagina. BV is common, and any woman can get it
Breast cancer is the most commonly diagnosed cancer in women worldwide. While more commonly associated with women, it can also affect men
Pregnant women are scared about coronavirus. Let's take a step back and review the basic information everyone should know.
SPRAVATO® (esketamine) CIII nasal spray, taken with an oral antidepressant, to treat depressive symptoms in adults with major depressive disorder (MDD) with acute suicidal ideation or behavior.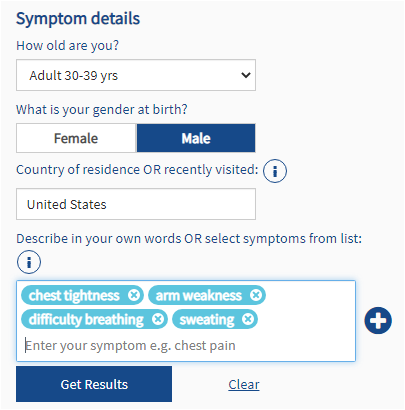 Medika has partnered with Isabel Health and you can now check your aches and pains in seconds by simply typing in your symptoms. Enjoy free access to a tool used by medical professionals.
Get my baby out! As the due date approaches, the back pain, hip pain, insomnia, and fatigue add up. Many women are ready to...
Chlamydia, caused by the bacterium Chlamydia trachomatis, is the most common bacterial sexually transmitted disease in the United States
Hypoglycemia, also called low blood glucose or low blood sugar, occurs when the level of glucose in your blood drops below normal
Alpha-1 antitrypsin deficiency is an inherited disorder that may cause lung disease and liver disease. The signs and symptoms of the condition and the age at which they appear vary among individuals.
Uterine Fibroid Embolization (UFE) is a minimally invasive procedure to shrink or destroy uterine fibroids. Although fibroids are a common gynecologic condition, this procedure is not done by a gynecologist.
A voluntary U.S. nationwide recall of albuterol sulfate inhalation aerosol to the retail level after previously halting production and distribution.
MINOCA, or myocardial infarction with non-obstructive coronary arteries, a condition that accounts for 6 to 15 percent of heart attacks and is 3 times more common among women than men with heart attack
Dr Christiane Northrup scores 4 out of 5 on Medika's Quack Scale. She poses a medium to high risk to both her patients and the general public and we recommend against following any of her advice.