Who wants a free doughnut? Krispy Kreme announced a public health campaign offering a free Orginal Glazed doughnut to anyone who shows a valid COVID-19 vaccination card.
Maybe a little sugar can help the medicine go down.
Krispy Kreme plans to offer this promotion until the end of 2021. Guests can come once per day to redeem their free doughnut. To launch the public health campaign, Krispy Kreme will also offer a free medium coffee from March 29 through May 24.
Many believe marketplace solutions, not government actions, can help the United States reach herd immunity. Private industry can be an important driving force to incentivize the public to sign up for vaccination.
Krispy Kreme joins other companies, like Dollar General, to provide vaccine incentives to customers and employees. These companies provide employees up to four hours of paid time to get vaccinated. Employers are motivated to encourage vaccine compliance to help businesses reopen safely. Employee vaccination also helps prevent lost workdays, reduce remote working, and avoid increases in health insurance premiums.
Dave Skena, Krispy Kreme Chief Marketing Officer, stated, "We all want to get COVID-19 behind us as fast as possible and we want to support everyone doing their part to make the country safe by getting vaccinated as soon as the vaccine is available to them."
To find a location offering a free donut near you, click here.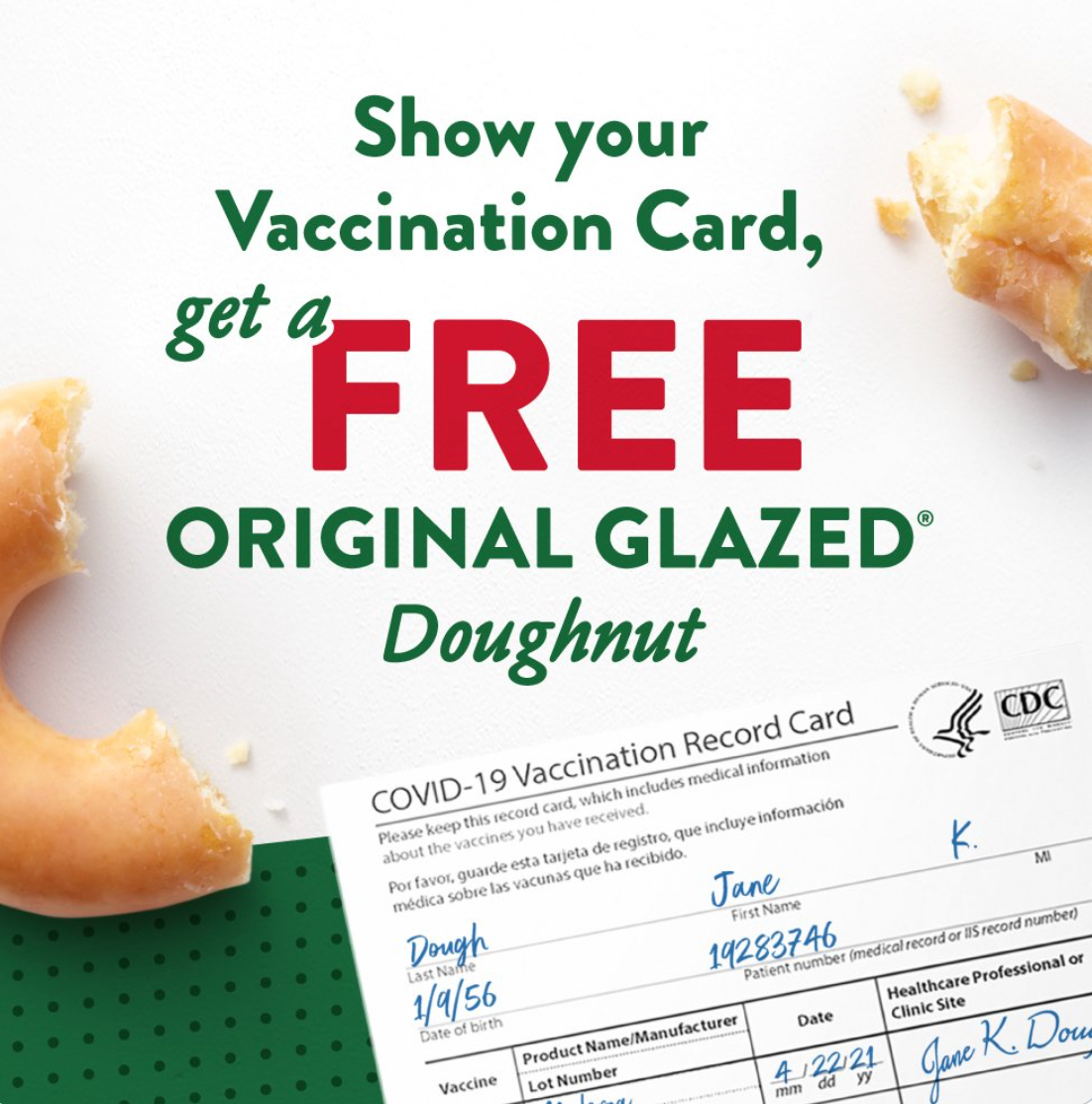 Image CC Twitter.com
There are three FDA-approved vaccines for Covid-19. The two messenger RNA vaccines from Moderna and Phizer offer 95% protection against Covid-19. The Covid-19 vaccines from Pfizer and Moderna use messenger RNA (mRNA). A single strand of mRNA delivers instructions to human cells to produce an antibody against the SARS-CoV-2 spike protein.
The Johnson and Johnson's Janssen vaccine offers 72% protection against infection and 86% against severe disease. The Janssen vaccine uses Adenovirus 26 (AD26) as the vector to deliver DNA material into our cells to provoke an immune response.All three vaccines are highly effective in preventing death.
A fourth vaccine from AstraZeneca is expected to be approved soon under the Emergency Use Authorization. Data released on March 22 showed the vaccine is 79% effective at preventing mild disease and 100% effective at preventing death.
An approved vaccine from AstraZeneca would give the US a fourth safe and effective option along with the Pfizer, Moderna, and Johnson & Johnson vaccines.